Double Slider Window
The feature of these windows is two glass panels, which are located next to them and open horizontally.
Get A Quote
They are equipped with rollers made on the basis of stainless steel axles, and Delron wheels that will not give you any troubles and will last for a very long time with proper window installation.
These windows are available with a depth of 3-1 / 4 "in different series, for example, Coronado. Each series is equipped with a special design that creates a visual line of the window, allowing the upper and lower edges of the window to be aligned throughout its width, regardless of whether it is open or not.
If you are in front of choosing which window type is best suited to your home, then pay attention to the characteristics given below and compare them.  You can count on the fact that our representative will gladly show you all the combinations and samples and will provide full professional assistance in all matters that you will encounter.
Best Exteriors strive for the best for you everyday!
See the detailed description on the manufacturer's website: Coronado Double Slider Window
Standard Features
We care for safety and that is why our engineers improved exterior glaze, so that the window could be broken only from the inside the house.
Frame and sash that were architecturally slanted make your house looks elegant, neat and nice.
Glass units were thickened to 3/4″ for maximal EE, due to double-strength standard.
To reduce acoustic transmission, U-factors and resistance of condensation we use Platinum Elite triple-chambered silicone foam spacer.
For maximal EE and waterproof strength we make fusion-welded corners with numerous insulation chambers (wall thickness is .080).
A gusket is formed around the insulated glazing by glassing stop's "compression", thus makes it waterproof.
In order to reduce condensation on sash and frame, a dual-wall glazing structure is used.
Life-time warranty. You may not be afraid of accidental glass breakage! Labor, replacement parts and transfer – included.
Our windows were certified by American Architectural Manufacturers Association (AAMA "Gold" label)
They were also certified by National Fenestration Rating Council Thermal Performance.
Our windows passed voluntary stringent test on resistance "Forced Entry".
Frame Colors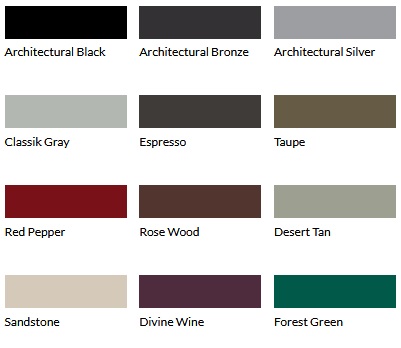 Grid Styles
Grid Patterns
Trusted By:
4.7/117

4.6/40

A+

5/5

5/13

4.55/102

4.7/98