Bay and Bow Windows
These windows are designed to bring your home to unprecedented beauty and comfort. Their main purpose is to create the illusion that the outer part of your home has been brought inside.
Get A Quote
Installing windows bay and bow makes it possible passes into the room more light and visually makes it bigger.
Bay and bow window type can combine variations of Double Hung, Picture, and Casement windows of Coronado series. Best Exteriors will not hide, these are complicate windows.But with us the selection and installation of windows becomes interesting and exciting.
See the detailed description on the manufacturer's website: Coronado Bay & Bow Windows
Great Unobstructed Views
Bay & bow windows present homeowners with many great benefits while saving them a lot of money in the long run. Making any room feel larger, broaden your view and welcoming more light bay windows might be the very best choiec for your home. Bay windows have three panels and offer a more pronounced, angular projection. Bow windows have four or more panels allowing for a more gentle, rounded appearance. These windows also provide more natural light in your Sacramento home, too.
Impressive Durability
Bay and bow windows are designed to last a long time and withstand weather elements. Pulleys and springs eventually wear out as time progresses, but thankfully, these windows do not need these parts to operate. As a result, they have a long lifespan. The products' interior gazing also contributes to their impressive durability.
As far as the outdoor elements are concerned, you will be comfortable in any weather because these windows contain weather stripping and polyurethane insulation. These unique components have been shown to resist the heat and cold so that your home remains a pleasant temperature in any season.
Optimal Energy Efficiency & Ventilation
As compared to other types of windows, the windows are definitely more energy efficient. Several San Francisco, California homeowners are using outdated aluminum windows that do not provide good energy efficiency.  These windows don't have a lot of complicated moving parts, so they are the preferred products because they can shut firmly and tightly. These products also offer optimal energy efficiency because of their high-quality window gazing.
In addition, many the windows are equipped with night latches so that air can come in easily. Many products also promote optimal ventilation by featuring panes that can be open simultaneously.  The end of result of these unique features will be more money in your pocket because you won't be getting ripped off by those costly energy bills.
Best Exteriors offers several energy-efficient options that can drastically reduce the cost of energy bills while ensuring that homes remain at a consistent, comfortable temperature every day of the year.
Easy Usage
If you are remodeling a house or purchasing a new one, you may want to consider these windows because they are extremely easy to operate. Instead of pushing them up like traditional windows, you just need to use a knob to push them outwards. In fact, they are so easy to use that you can operate them with just one hand.
Decorative Styles
The great thing about the windows is that they come in a variety of colors and styles, especially if you choose the Anlin brand. While many of their components are designed for easy usage, they also beautifully accentuate a San Francisco, CA home by adding great curb appeal. The easy-lift out latches make cleaning a cinch, and they also add to the aesthetic appeal of a home. Similarly, the interior gazing can greatly improve ventilation and durability while highlighting the natural features of these products.
Trust Best Exteriors For Your Bay & Bow Window Installation
When you're ready to let the natural light in your home, there is only one company that you should trust to help you install these great products. Serving the Sacramento area, Best Exteriors can provide you with a top notch window installation. Our company is known for a 100 percent satisfaction guarantee and revolutionary service.
We are also known for our attractive financing options with Home Energy Renovation Opportunity, Synchrony Bank, and Ygrene. Once you decide that these windows are the best option for your San Francisco, California home, which manufacturer should you select?
Anlin offers windows at affordable prices, but we also use other great companies on the market. Regardless of the brand that you choose, just make sure that you get the best value for the cost. Our company offers an extensive array of brands, and many of them come with a lifetime warranty. Give us a call today to learn more about a window installation in Sacramento and the Anlin brand.
We provide complimentary estimates and an accurate time frame for completion.
Standard Features
We care for safety and that is why our engineers improved exterior glaze, so that the window could be broken only from the inside the house.
Frame and sash that were architecturally slanted make your house looks elegant, neat and nice.
Glass units were thickened to 3/4″ for maximal EE, due to double-strength standard.
To reduce acoustic transmission, U-factors and resistance of condensation we use Platinum Elite triple-chambered silicone foam spacer.
For maximal EE and waterproof strength we make fusion-welded corners with numerous insulation chambers (wall thickness is .080).
A gusket is formed around the insulated glazing by glassing stop's "compression", thus makes it waterproof.
In order to reduce condensation on sash and frame, a dual-wall glazing structure is used.
Life-time warranty. You may not be afraid of accidental glass breakage! Labor, replacement parts and transfer – included.
Our windows were certified by American Architectural Manufacturers Association (AAMA "Gold" label)
They were also certified by National Fenestration Rating Council Thermal Performance.
Our windows passed voluntary stringent test on resistance "Forced Entry".
Frame Colors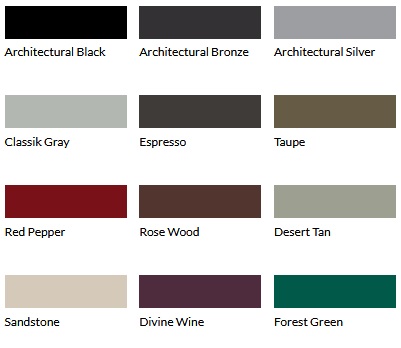 Grid Styles
Grid Patterns
Trusted By:
4.7/117

4.6/40

A+

5/5

5/13

4.55/102

4.7/98